Year: 2018
Project type: Interior design
Location: Zagreb, Croatia
JARUN FAMILY IDYLL
A charming Zagreb flat located in Jarun — that would be a brief description of a project we were happy to have designed and the construction of which we carefully supervised, from the initial sketches to the interior decoration and tailor-made furniture placement. A 90 square meter area with additional 20 square meters of the terrace on the top floor of a residential building witnessed its interior design "spring awakening".
A few months ago, the owners had moved into their new family home, and we proudly present an exclusive view of its new attire.
"Tour de apartment" begins at the most logical place — its entrance, where we strived to utilize the elongated hallway as much as possible while protecting the more private, living areas from direct views from the doorway.
By combining horizontally placed metal beams and wooden boxes, we created a partial visual barrier fitting the modern overall design style, while providing a clear border between the entrance and living areas at the same time.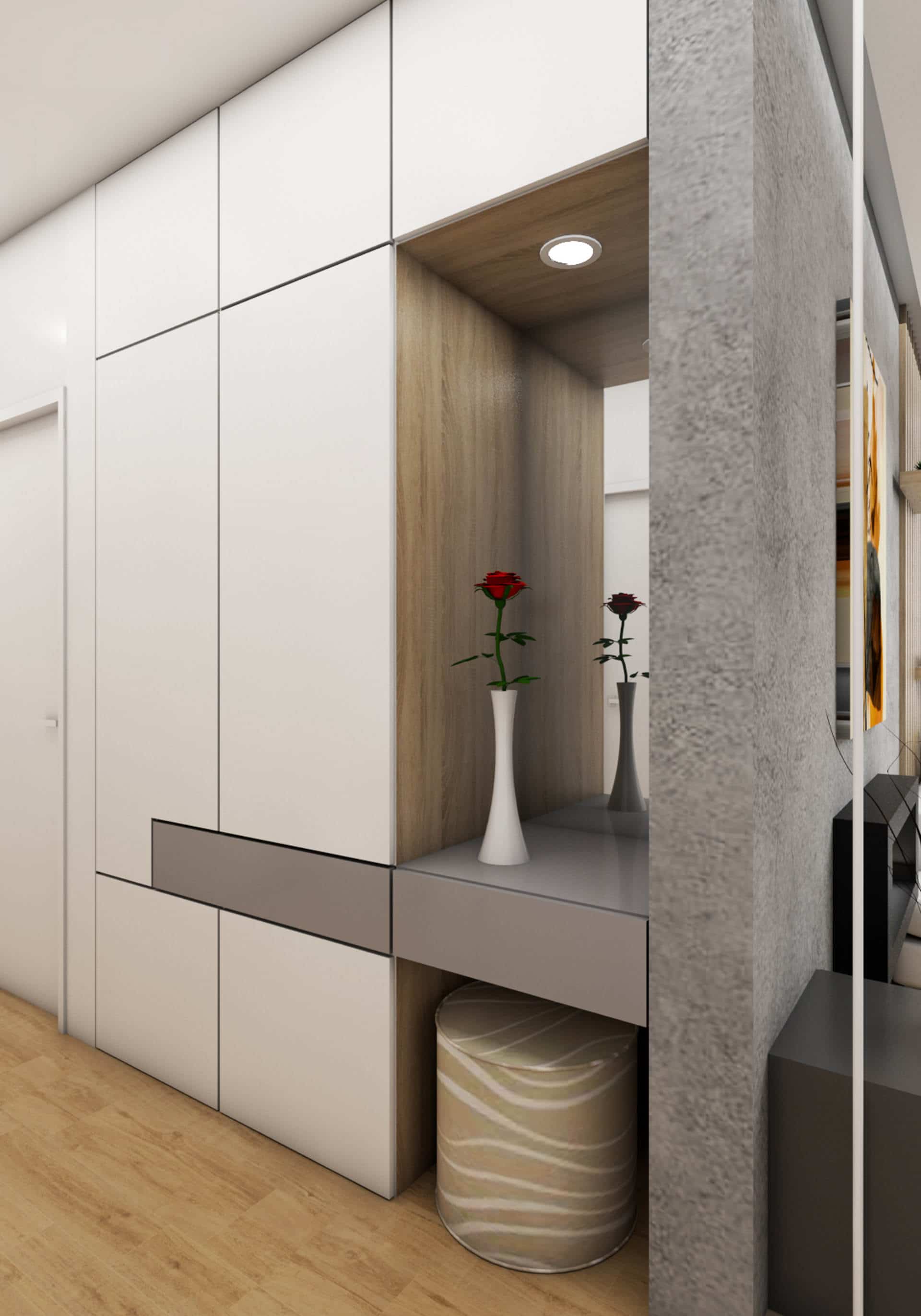 The kitchen, on the other hand, has no problems with privacy, completely utilizing its private niche. We equipped it with high and low units, a two-door fridge, and a small, hedonistic wine bottle cooling unit, as well as a much-needed storage area and a spacious dining counter.
Tailor-made furniture features clean white and grey surfaces contrasted by the warmth of wood. From the kitchen, the same palette spreads throughout the apartment.
Brightly colored details and furniture pieces, as well as dynamic lighting placed throughout, keep the design from becoming monotonous and perfectly pastel-hued.
The parents' bedroom features a walk-in closet and a very elegant bathroom. The aforementioned wooden and grey surfaces complement its modern design. The youngest family members enjoy a playful and lively interior design with contrasts, colors, and geometric shapes in their bedrooms.
A simple design, the optimal amount of decoration, beams and slats, glass and reflecting surfaces, and the power of thoughtful details seemed to us as a winning combination, which we transplanted to the apartment exterior as well — a beautiful, spacious terrace where we had the chance to enjoy a few lazy hours in good company.
The last day at the construction site, the one where we come accompanied by photographers and a bag filled with lenses, is always a special moment — even emotional if you don't mind us saying so.